018 - Yeti Mk. I
From The Abominable Snowmen (1967)
Version 4 - Updated 1/26/2018

Finished: https://drive.google.com/open?id=1E1DKTQW5MVszMOJXlpBJ0uKf-6lskWSQ


Notes: Possibly my finest figure to date, this design is based off the original Yeti costumes used during The Abominable Snowmen. The Mk. II seen in Web of Fear differed significantly, despite the episodes being filmed only a few months apart. The Mk. I Yeti looks much more like a living organic creature, and lack the weird "Moth" flashlight eyes, square mouths, and bare chests of the Mk. II's. They also have four fingers on each hand instead of three, and most unexpected of all, had somewhat creepy looking cats eyes that don't appear to have been visible at all in the filmed version. (Though since we're lacking 5 of the 6 episodes, it's hard to know for sure.)

My figure also comes with optional accessories including the pyramid of control spheres from the cave featured in episode 2.

Print Recommendations: Obviously, you will get better fur texture if you use a higher definition 20 micron printer rather than a standard definition 100 micron printer, but I've seen several people successfully print this figure in SD. I highly recommend printing the hands at 70% to 100% fill and the shoulders at 90% to 100% fill for maximum strength. The joint where the lower arm attaches to the upper is the hardest to fit together, and also the most likely to break when assembly. I cracked several getting my prototypes together, and while this V4 reprint goes together much easier, it's still a structural weak point. If you're having this figure printed professionally, you may want to splurge and get a couple of spare shoulders printed, just in case.

Color Recommendations: While this classic Troughton story is entirely missing aside from episode 2, we are quite lucky to have lots of excellent behind the scenes color photography and 8mm footage to consult, so we know exactly what the original Yeti looked like. The fur is a lighter brown on top, with a "dirty" grey tinted mid section, and the "face" and area around the chest flap are printed black. The hands and feet are black with white claws, and the chest cavity and control sphere are polished silver.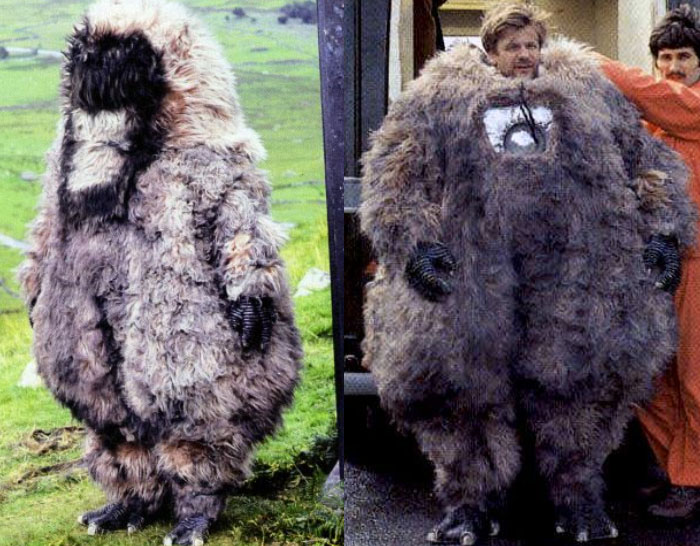 Useless information you don't really need to know: The oddest revelation about the original Yeti came as a surprise while I was pulling together source materials for my figure design. While not visible in the color photographs taken during filming (which have made it into several books and magazines since), watching the somewhat grainy 8mm footage, I was surprised to discover that the Yeti have eyes, and not the weird bicycle reflector "moth" eyes of the Mk. II. These appear to be yellow with almost cat-like pupils! Why we don't see them in the surviving telesnaps and Episode 2 footage is something of a mystery, but I suspect there might be a couple of explanations...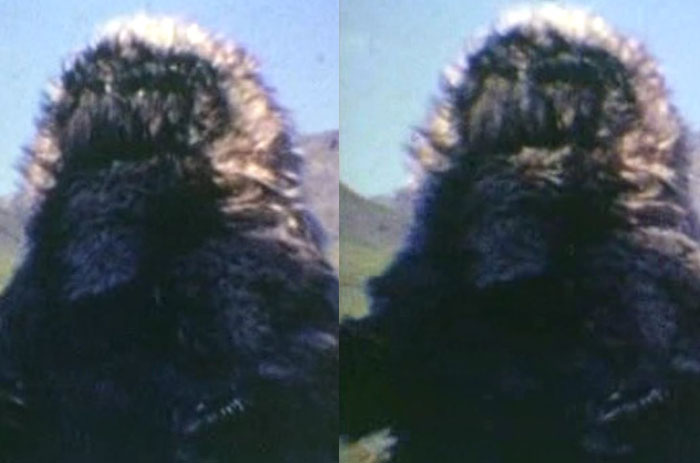 First, it's entirely possible this fellow above was a "hero" costume, which means it was given slightly more detail than some of the other background Yeti, and may have been used for a purported sequence in one of the later episodes where the yeti's eyes are supposed to light up. I've talked to at least one fan who claims to have seen this in the original camera script, though whether it actually made it onto film (or was even visible in the televised episode) we may never know. It also appears that the Yeti like to cover up their cats eyes with long fake eyelashes that appear to have been glued on as an afterthought, if this footage from the Schoolboys And Girls Exhibition (1967-1968) is any example.
And if the cats eyes weren't weird enough, it appears that they had a beak-like nose, which can't really be seen unless you get the perfect camera angle, like the one below.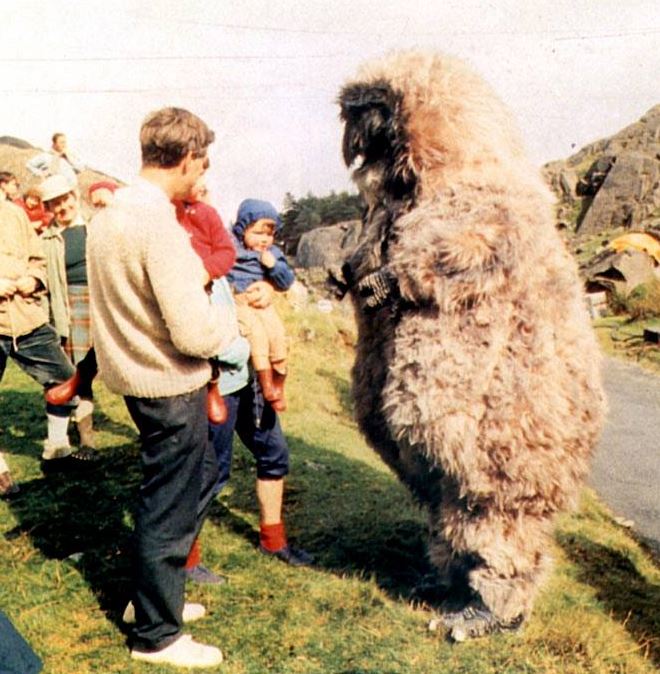 Why am I telling you all this? I actually tried incorporating these elements into my original Yeti sculpt, but it came out looking more like a Gary Gygax owlbear than the Yeti we all know and love. A Yeti with a visible face... just doesn't seem right. So the figure I'm releasing is a compromise. It still has a bit of a beak, but not as sharp and hawk-like as the photo above, and I replaced the cats eyes with the lashes seen in the youtube video, but with a little bit of an indentation to imply that there are eyes under all that fur.
However, if you want to customize yours to match what we now know an accurate Yeti looks like, be my guest.